Phoenix Class A Regional Tournament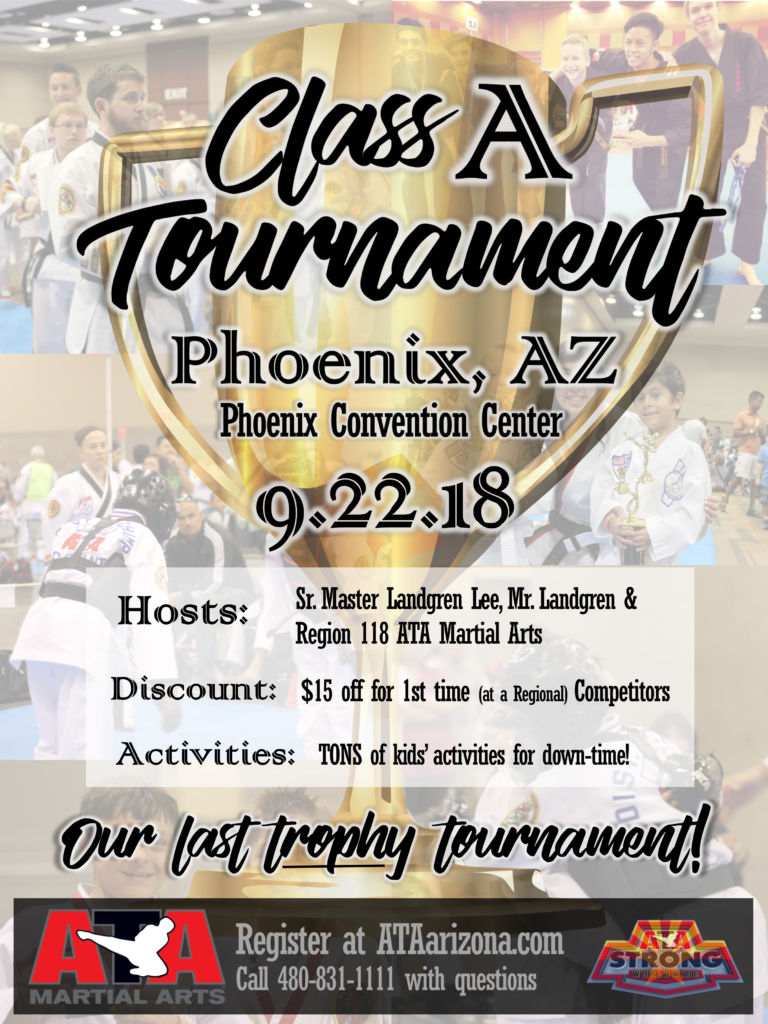 Tournament Host: Sr. Master Landgren Lee & Mr. Anthony Landgren
Region 118 ATA Martial Arts
September 22nd Tournament Schedule:
NOTE: NOVICE COMPETITION – Traditional Forms, Weapons, Sparring, Combat Weapons, Creative, and Extreme all go in the same ring.
NOTE: TRADITIONAL (POINT) COMPETITION – Traditional Forms,
Weapons, Sparring, Combat Weapons in the same ring. Creative and
ATA Extreme will be at 10:00am! Age 8 and under will do Creative & Extreme after their Traditional Events.
7:00 AM Doors open for registration

7:30 AM MANDATORY ADULT (18+) BLACK BELT MEETING (ALL Adult Black Belt competitor slips will be collected at this time, including
Creative/Extreme) Adult Black Belts that leave early forfeit any points earned.
NOTE: ADULT BLACK BELT COMPETITION will take place throughout the day as scheduled or as rings/judges become available.
8:30 AM ATA Tiger, Special Abilities, and Team Sparring/Combat Begin Competition
9:30 AM OPENING CEREMONIES
10:00 AM Creative/ATA Extreme All Ranks Ages 9-49, Adults 50+, Age 8 &  Under to Line Up*
11:00 AM Adults 40-49, and Age 9 & 10 to Line Up
1:00 PM Adults 30-39, and Age 11 & 12 to Line Up
2:00 PM Adults 18-29, and Age 13 & 14 to Line Up
3:00 PM Age 15-17 to Line Up

Please Note – This schedule is an estimate of times. As much as the tournament staff would like to give exact time. This schedule will vary depending upon the number of competitors and the number of available judges the day of the event. ALL TIMES POSTED ARE APPROXIMATES PLEASE BE PREPARED TO START PLUS/MINUS 1 HOUR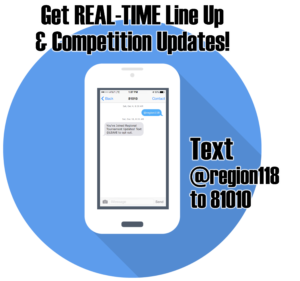 Location: Phoenix Convention Center
100 N. 3rd St. Phoenix, AZ 85004
In the West Building, on the 1st Floor (seems like Basement level but it's not) We are in Hall 6.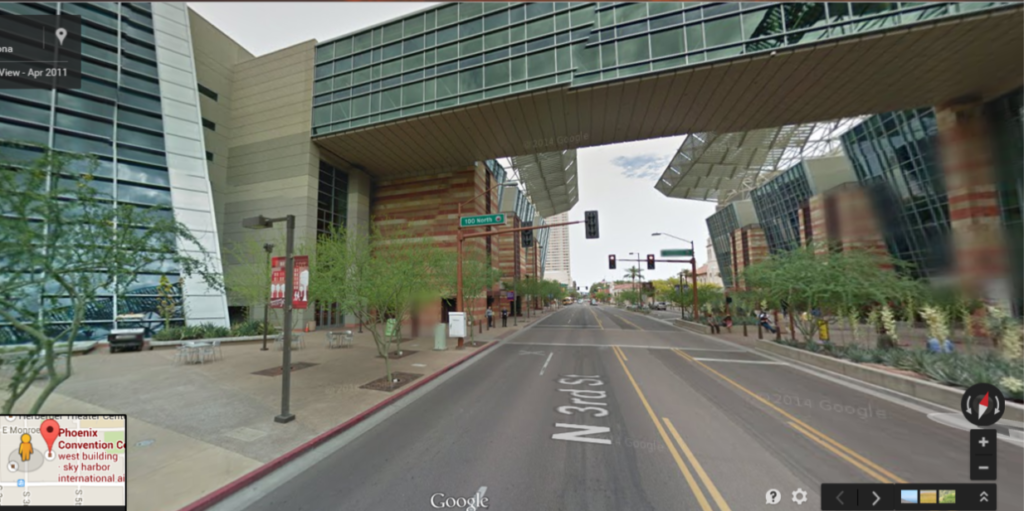 Directions: Using I-10 Take Exit 1450 (7th St) and go South to Van Buren, Monroe or Washington. Using I-17 Take Exit 195 (7th St) and go north to Washington, Monroe or Van Buren.
You will see signs for the Convention Ctr once you hit downtown.
Parking: Any pay lot near 1st & Monroe is very convenient to the West Building. A less-expensive pay lot is a short walk at "Jefferson Street Parking" for $5.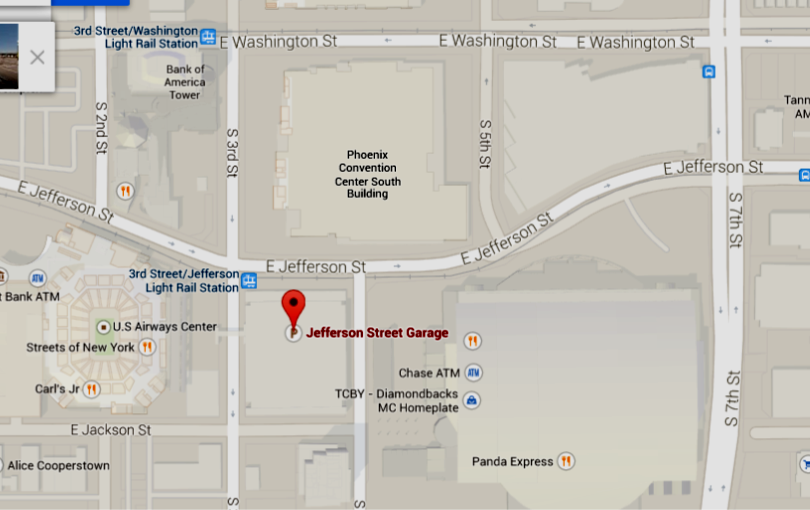 Pricing (Has Changed this Season):
Traditional Forms/Sparring—- $45

Traditional Weapons—- $20

Combat Sparring—- $20

1st Creative/Xtreme Event—- $20

Add'l Creative/Xtreme—- $20

Tournament Spectators ages 5 & up—- $7

LATE REGISTRATION FEE— Coming 2019

Parking—- Additional/Varies
A few Hotel Recommendations:
Springhill Suites Downtown $108/night, 9 min lightrail ride
Hampton Inn Midtown $116/night, 20 min lightrail ride
Holiday Inn Express $123/night, 15 min lightrail ride
Other Things You Should Know:
All trained ATA students in uniform can learn about judging first hand by volunteering to keep score or time in any ring. Neat writing and math skills are important.
If you forgot any gear the Body & Mind Sports Store will be present with a booth for purchases- card OR cash are accepted.
Vendor Opportunities:
Host an exhibit for $200
Contact Michelle Lee at [email protected] 
RSVP to the Event on Facebook! Click the link below.